"
The only bot for 

Discord

 you'll ever need"

Airhorn Solutions is a novelty bot made by the Discord team. I can't say any sane person would agree with its tag line though.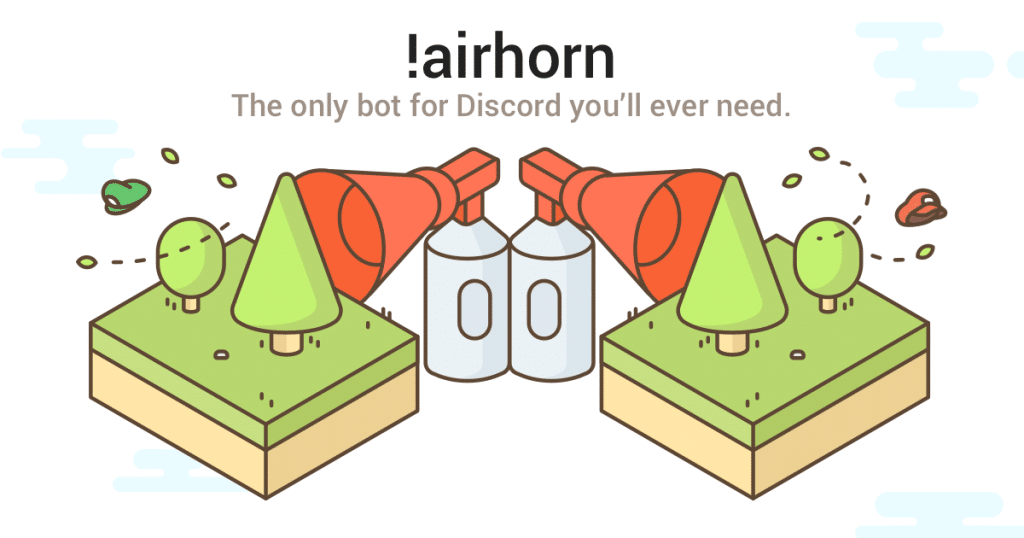 For some reason I can't find an up-to-date command list from a single source online other than the source code itself, so I've patched the information together into one place, checked it against said source code, and put it here instead.
Update (December 2019):
The developer of the bot has left a note on the project's GitHub page:
"This project is no longer active nor maintained, feel free to fork or build your own!"
>> I (MHLoppy) do not run the bot. I just have a commands list. <<
---
You can choose to use a command with or without a suffix. Using the command without a suffix will randomly choose from the available audio clips for that command. Adding the optional suffix allows you to explicitly choose which of the audio clips to play for a command. Some commands have aliases. For example, !johncena and !cena do the same thing (with or without a suffix).
Usage examples:
Randomly selected: !airhorn
Specific: !airhorn echo
Note: the bot tends to die if you spam it, so I recommend limiting yourself to perhaps ~3 commands at a time. If it becomes unresponsive after spamming commands, you have to remove and re-add the bot to restore its functionality. Sometimes the bot also just has random downtime unrelated to spamming it on a server, in which case it just goes offline entirely (as opposed to online but unresponsive).

Command
Suffix (optional)
!airhorn
default
reverb
spam
tripletap
fourtap
distant
echo
clownfull
clownshort
clownspam
midshort
truck
!anothaone
!anotha
one
one_classic
one_echo
!johncena
!cena
airhorn
echo
full
jc
nameis
spam
!ethan
!eb
!ethanbradberry
!h3h3
areyou_classic
areyou_condensed
areyou_crazy
areyou_ethan
classic
echo
high
slowandlow
cuts
beat
sodiepop
!stanislav
!stan
herd
moo
x3
!birthday
!bday
horn
horn3
sadhorn
weakhorn
!wowthatscool
!wtc
thatscool