Chris' "Gaming+" Build (December 2014)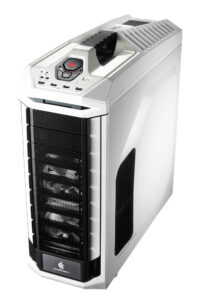 (most of this system's writeup was written in 2019 so I could finish this section and publish the article – that unfortunately also means some of the information I had on the build has been lost to time.)
Somewhere between me building my own system in 2013 and Chris looking at a new system at the end of 2014, my brother actually came to respect my opinion about computer components. Go figure.
This build could have easily been a couple hundred cheaper, but to quote Chris directly:
"I've got money falling out of my pockets"
That's a bit of an exaggeration of course, but it still meant that the purse strings were quite loose for this build.
Build involvement:
Component selection (assisted)

Building the system (assisted)
BIOS tweaking and overclocking (lead)
Priorities:
Gaming performance
Unclear compute requirements (e.g. potential to stream / record?)
2019-me honestly doesn't remember exactly what Chris had in mind beyond gaming, which implies he himself might not have had a firm idea either, or that it wasn't considered a high priority at the time.
The Build:
Part
Model
CPU
Intel Core i7 4790K
CPU cooler
Cooler Master Hyper 212 EVO
Motherboard
MSI Z97-Gaming 3
RAM
Kingston HyperX Fury 16GB (2x8GB) DDR3 1866/C10
GPU
MSI GTX 970 Twin Frozr V
Storage
1x Samsung 840 EVO 500GB
1x Seagate Barracuda 3TB
Case
Cooler Master Storm Stryker
PSU
SeaSonic G550
Extras
1x LG BH16NS40 (Blu-Ray drive)
1x Cooler Master 120mm fan (donated by me)
Most of the component choices for this build were pretty standard for the time.
The i7 was a bit unnecessary for known-usage, but left some buffer for unknown-usage, and looking back on it from the perspective of 2019, I guess it did end up being the better choice over an equivalent i5. I think the extra threads have actually gone to decent use.
The Hyper 212 had still yet to be toppled in mindshare for "best good budget CPU cooler", even if alternatives were likely available by the time the 212 EVO specifically was on the market. I donated a spare fan from my own build to give the 212 EVO a push-pull configuration for improved cooling performance. Importantly the 212 EVO was at a more reasonable price (in Australia) back then than Hyper 212 variants are today in 2019.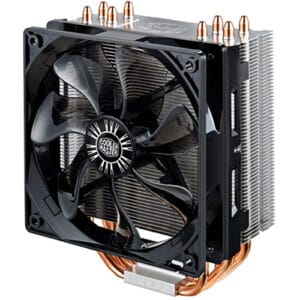 The motherboard choice may have been influenced by the fact that Chris was (and perhaps still is) an MSI fanboy, but I think it was probably also one of the best options available. Some light overclocking was on the table, so we spent a little extra getting a Z97 board over an H97 board.
Typically for a gaming-focused build during this time period, 8GB was the standard mid-range selection, but given the system might've been doing more than just gaming and light tasks like web browsing, 16GB was chosen instead. We also found a good deal on an 1866 MHz kit, so were able to find a tiny performance boost over the more standard 1600 MHz kits from this era.
Storage was uneventful, with the safe sweet-spot choice of a 500GB Samsung 840 EVO coupled with a 3TB Seagate Barracuda drive. The 840 EVO was pretty dominant at the time, being basically the best mainstream SSD pick unless another drive was on sale. No doubt that was great news for Samsung until the competition caught up.
A GTX 970 was also extremely standard in this era, and this combination of Haswell CPU + GTX 970 has actually scaled fairly well into modern games. Even in 2019 you can definitely look into getting a system with specs like this second hand if you're looking to get a gaming PC on a budget.
To be quite honest I don't remember exactly why the MSI Frozr V cooler was chosen, although I do recall that fan-stop-at-idle was something that wasn't necessarily considered a standard feature yet – but this card had it. Looking over at the notes I wrote 2 years ago for Nick's PC (on the next page), it seems as though MSI's coolers were among the best options even back in 2014-2015, so most likely that was the reasoning behind the selection.
With a 970 Chris also got to directly participate in memes about the GTX 970 not exactly having 4GB of VRAM as well, which was certainly a win for him.
The case is one of the only especially interesting parts of this build in terms of deviation from a default cookie cutter parts list. I think this was chosen primarily for aesthetic reasons – and certainly it's a decent looking case if you don't mind its size or somewhat clunky side panel design. The top carrying handle was likely also a factor, especially given that I myself initially wanted to use the rather petite-by-comparison CM Storm Scout when I first started putting together a parts list for my own build years prior.1
The acoustics of the case are nothing special – although having an integrated fan controller does help somewhat with noise levels at least. Initially when the parts list was put together Chris wasn't too worried about acoustics, but I think over time it's something he might've grown to care about more. I guess I'll find out for sure when he decides to next upgrade his PC. Anyway.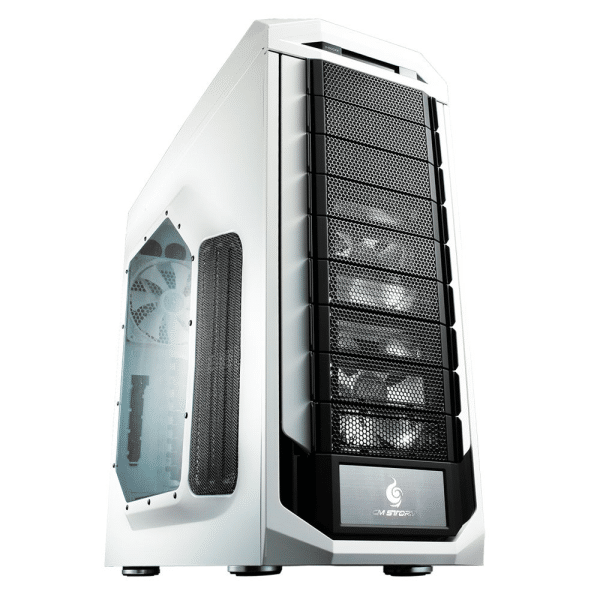 As was standard at the time for a mid-range build, a Seasonic G 550W was the PSU choice, combining good performance with okay acoustics at a class-leading price. One thing of note is that the G550 came with 2x 6+2 PCIe connectors,2 and both of those were needed to power his graphics card. At the time it was already known that multi-GPU solutions were.. not great, but it did impose theoretical limits on upgradeability, if not so much practical ones.
Rounding out the non-peripherals list was a Blu-ray drive with write capability. To this day I'm not sure if a Blu-ray has ever been inserted into the drive (let alone written to), but I can sympathise with wanting to own at least one device capable of reading those discs.
Not included in the table above, Chris went with a triple 1080p monitor setup, including a 144Hz monitor for this centre display – perhaps the first among my social circle to do the latter, and certainly the first to do the former. I'm actually a little surprised that his 970 has kept up with things at the higher refresh rate, although I suppose it helps a great deal to not regularly play the more demanding recently-released AAA titles.
Upgrades and Changes Over Time:
As far as I know, the system hasn't had any upgrades or changes since it was built, beyond some light overclocking on the CPU and RAM which I did.
User Comments:
N/A (I don't think I ever asked these questions back in 2017)
Reflection:
The build was pretty straightforward, and I don't think there've been any major hitches over the build's lifetime except for a fumble on my first attempt to OC the 4770K (despite passing all stability tests it was still a bit unstable under specific loads during real usage). I fixed that up later so it was ultimately inconsequential, and the build is still in use and going strong as of the end of 2019.
I suspect that if the cryptocurrency mining crazy hadn't exploded GPU prices, an upgrade from the 970 might've been considered to help feed the 144 Hz display. Other than that it seems it's held up pretty well.
Given that we're related it wouldn't surprise me if our preferences on first-build had some similarities.